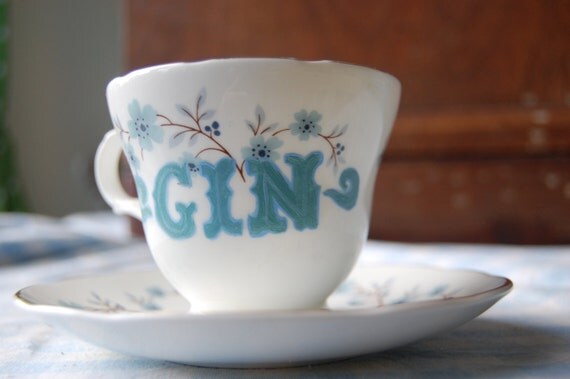 Source | Hand Painted Teacup and Suacer | Image taken from Hello Little Lovely on Etsy
EDIT: After posting this Sally from Hello Little Lovely got in touch to offer all of you lovely reader's 20% off any of her gorgeous hand painted items on etsy, simply by using the code TEACUP20 at the checkout! Enjoy! It is valid for a month!
Hey everyone! So it isn't very often I do a shopping post or a product review or any of that business, I leave that up to those pro bloggers who have fancier cameras and seemingly endless amounts of white surface tops to picture things on (oh if only I could keep things that pristine!), but well, just LOOK at this tea cup! I just had to tell you about it…
This month it was Lucy's birthday, like me she is pretty obsessed with all tea shaped paraphernalia, so when I came across this little beauty on the etsy shop Hello Little Lovely I knew it would be perfect!
But this shop is just a dream because of it's adorable hand painted teacups, but because of the amazing lady behind it, Sally. Not only does Sally customise these vintage teacups herself with her crafty and talented ways but she also genuinely cares about the people who are buying them from her!
I messaged Sally, explaining that this cup was a gift: I was sending it directly to Lucy and asked if it would be possible to add a little note in with the package. Within a couple of hours Sally had replied, the note wasn't a problem and she even offered to hand paint a little personal message from me to Lucy on the bottom of the cup… no extra charge I might add! She then packaged it all up and sent it off, letting me know what was going on every step of the way!
Maybe I have gone into too much detail on this post when all you really need to know is where you can get your mits on such a cute teacup, but I think with all the online shopping we do, we can forget that behind all the gorgeous photos on etsy, there is somebody going to the effort of making these products, of managing there own small business and when they are doing it so well, I think they deserve a mention don't you?
Sally has a whole range of hand painted customised plates and cups on her shop, and you should definitely go have a look! Oh, and Lucy loved her gift as much as I did, in fact she got quite the bundle of treats!
Before I go I will just say one more thing, this teacup is HAND PAINTED, and they are unique, if you are expecting absolute perfection and precision, then Sally is pretty damm close, but the beauty behind something being hand painted is that you can see it was done by a REAL person and not just a printer! Live life & drink out of gorgeous cups x
Links…
Shop | Hello Little Lovely on Etsy
Gin Teacup | Here
Follow Sally on Instagram | @hellolittlelovely
And on twitter too | @hellolillovely
ps. this isn't a sponsored post in any way shape or form, I was just super impressed, and thought Sally deserved a mention!